announcement
DineOut NYC is thrilled to announce that Pershing Square Capital Management has signed on as the first funding partner to help install winterized dining equipment at DineOut NYC and other communal dining locations in the City. The first set of heaters have been incorporated into the existing DineOut NYC design on Mott Street in Chinatown, as well as Dyckman Street in Inwood, Manhattan.
Gathering to safely dine outside has been a boon to our spirits and economy since last Spring, and we want to do whatever we can to help continue this vital resource through the colder months. Please join us by making a tax-deductible donation to help provide heaters to additional restaurants in communities across the five boroughs. DineOut NYC is a Partner Project of the 501(c)(3) Fund for the City of New York.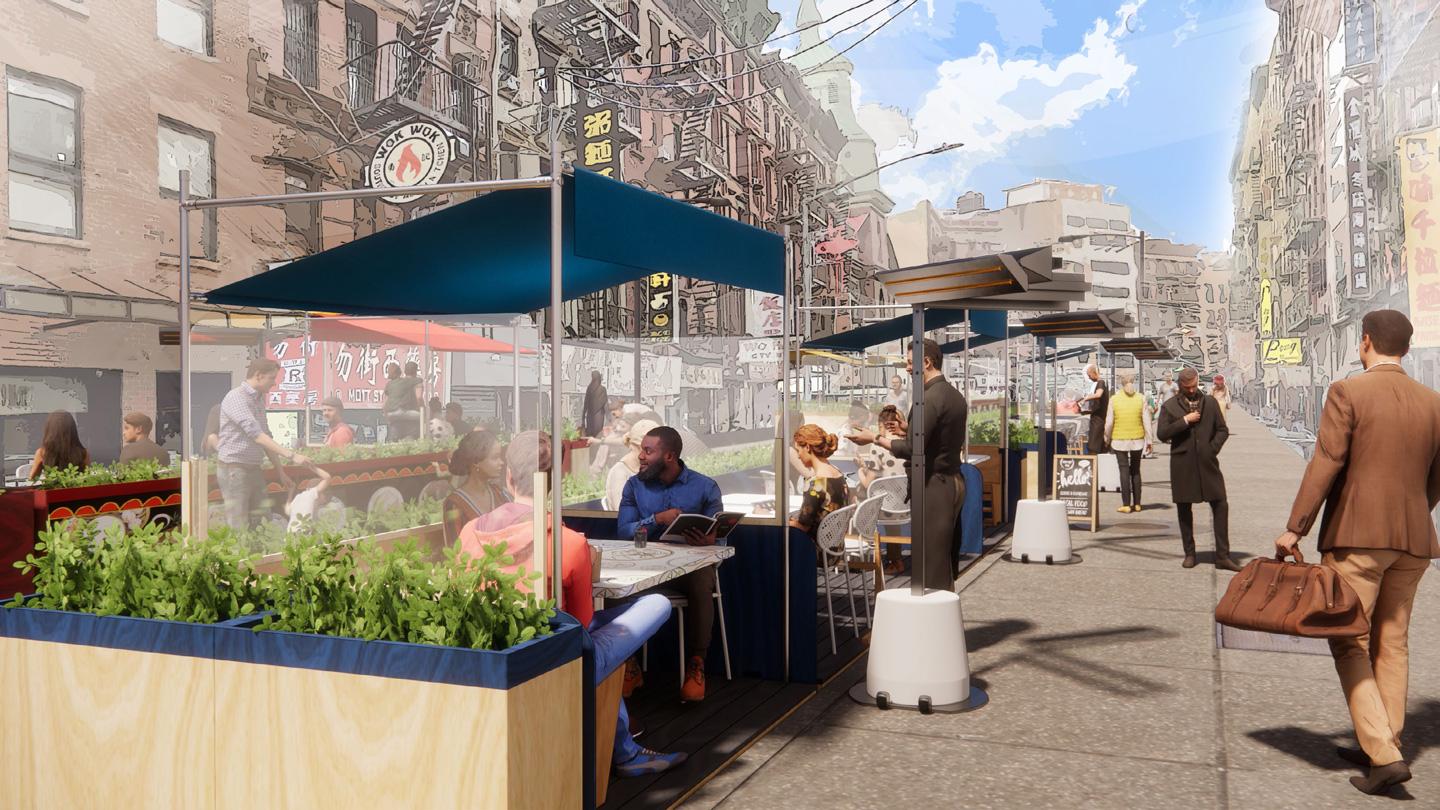 We have been working to secure funding to offset the costs of winterizing outdoor dining areas at communal locations in all five boroughs. In coordination with the New York City Department of Transportation (DOT), DineOut NYC identified the Open Streets that were deeply in need of heating for outdoor dining across Manhattan, Brooklyn, the Bronx, Queens and Staten Island. Working with Cosentini-A Tetra Tech Company and Shawmut, Rockwell Group assessed the infrastructure specifications and heating systems needed to accommodate the city's regulations for the neighborhood dining locations listed below.
DineOut Woodside Avenue, Elmhurst (Queens)
DineOut 37th Road, Jackson Heights (Queens)
DineOut Alexander Avenue, Mott Haven (Bronx)
DineOut Willis Avenue, Melrose (Bronx)
5th Avenue Corridor, Sunset Park, Bay Ridge and Park Slope (Brooklyn)
Frederick Douglass Boulevard, Harlem (Manhattan)
Minthorne Street, Tompkinsville (Staten Island)