blog
The Broadway musical She Loves Me follows the timeless story of two people (unknowingly) falling in love. The narrative was rich with opportunities to explore how the set could express both the characters' inner feelings and their outward expressions. Constantly moving in a one-two-three pattern, like a traditional waltz, the parfumerie grows out of the music—almost dancing to the rhythm of the score.
The small stage wings were an asset and inspiration for the set's choreography. All movement takes place in full view, so transitions had to be seamless.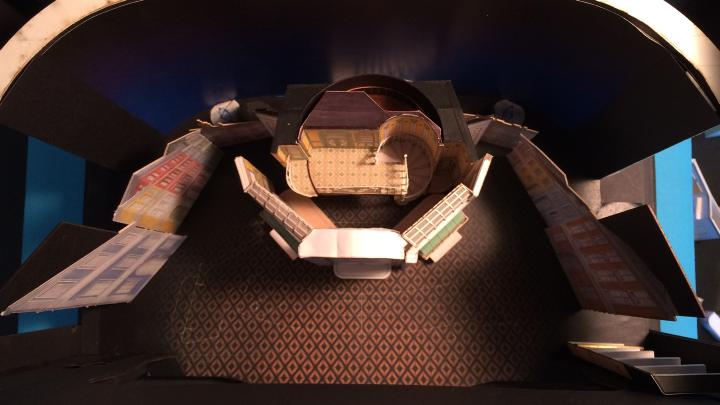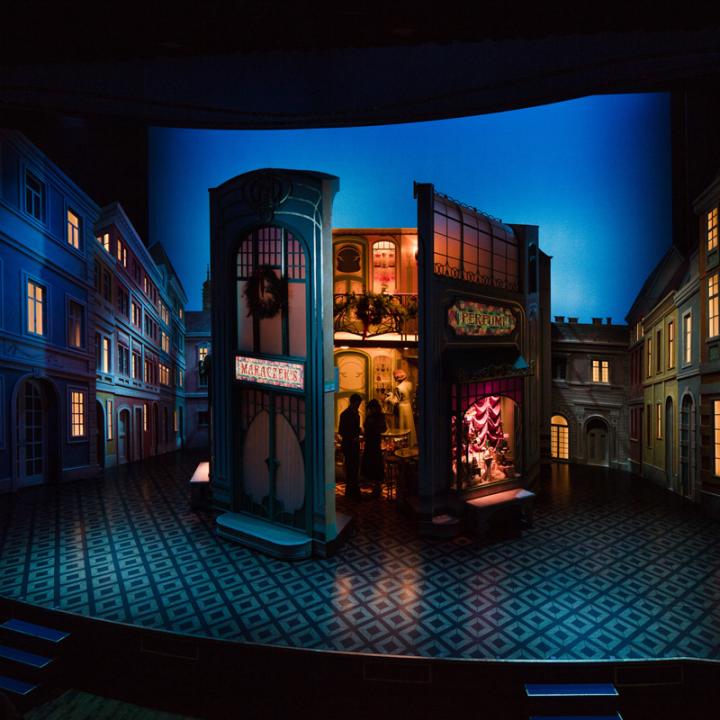 Solving a puzzle
---
One of my favorite stagecraft challenges is engineering sets that nestle together. Like Russian Dolls, the pieces open sequentially to reveal multiple settings. The mechanics and sequencing of She Loves Me's stage elements had to fit together in multiple configurations.
Although it appears to open and close as a single unit, the parfumerie is actually composed of four independent pieces. The stage right and stage left walls—which show both the exterior and interior of the shop—operate in separate curved tracks. Each of these wall units is designed with a large circular gear ring built into the base of each unit. The gear ring allows each unit to rotate to an open or closed position as it travels along its curved track.
The parfumerie transforms from outside to inside in 15-17 seconds.
Acting as a giant transformer (in the classic tradition of stagecraft), the set opens up to reveal an interior emblazoned with art nouveau motifs and vitrines packed with hundreds of jewel-toned bottles.