blog
Lawn, our Summer Block Party installation at the National Building Museum in Washington, D.C., welcomed its first visitors last week and is open for daydreaming, lemonade, movie nights, hammock naps, and more throughout the summer. This indoor-outdoor experience is the sum of an intricate web of architectural armature, digital soundscapes, and theatrical devices that immerse guests in the essence of summer. Below are just a handful of the elements that bring Lawn alive.
56 custom summer icons make up the sky graphic. The front of the mural has roughly 120,000 icons.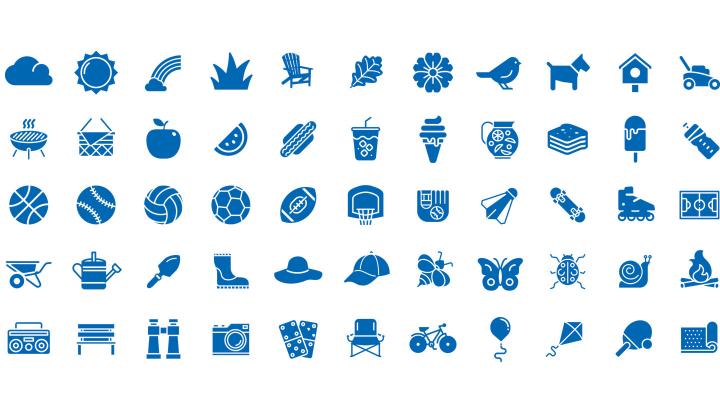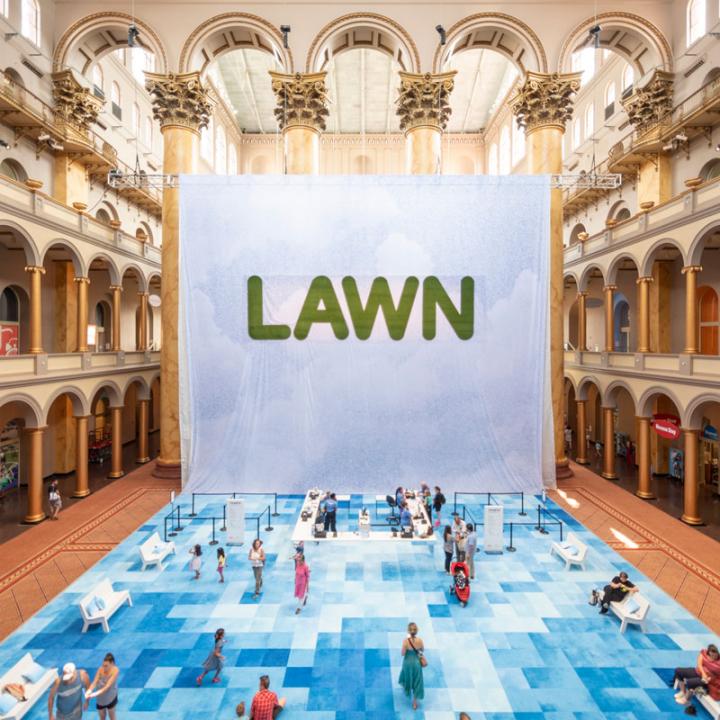 The sky mural behind the ticket desk measures 52' tall x 60' wide.
The 100% recycled plastic Adirondack chairs are by Loll. Each chair is made from approximately 400 single use milk jugs and will be repurposed by the museum when the exhibition ends.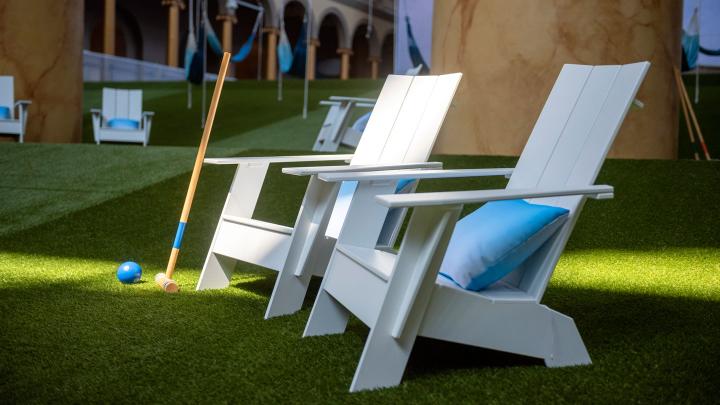 The custom entry carpet (manufactured by Shaw) is made up of 2,500 individual tiles and 6 unique colors.
The scaffolding structure measures 90' wide and 208' long. Ours is the first Summer Block Party installation to bring guests past the second floor of the Great Hall.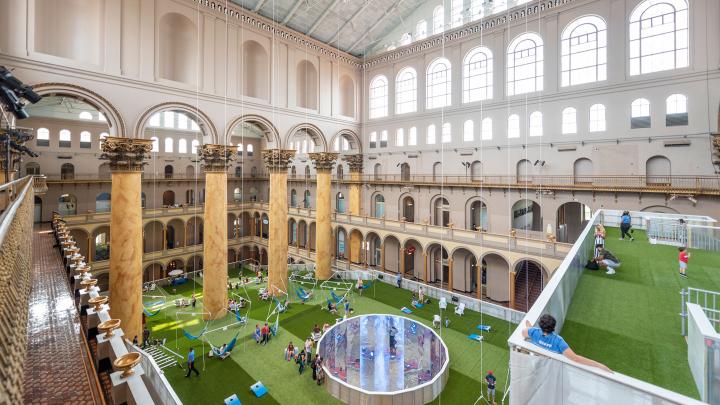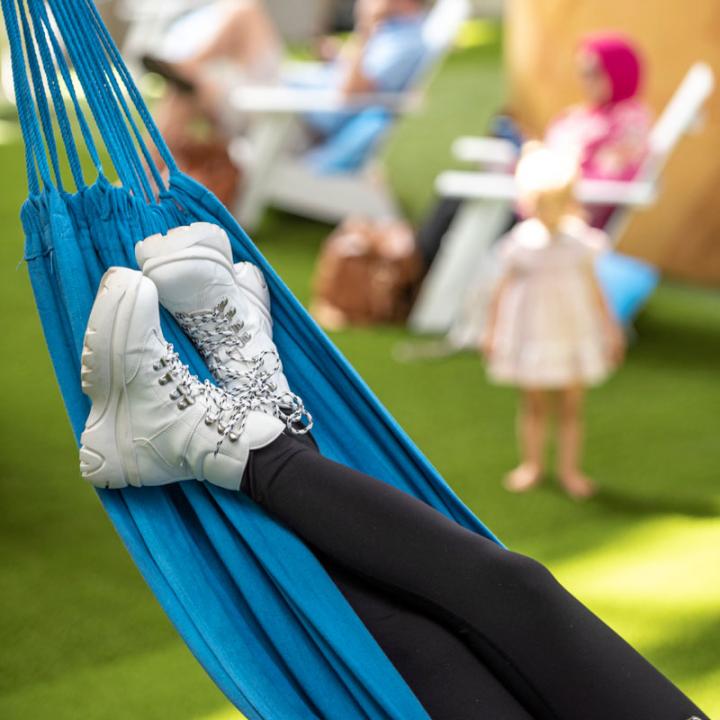 More than 20 luminaries contributed recorded stories about summer lawn memories. Every hammock is equipped with a listening station.
29,000 SF of soy-based grass will be repurposed when the exhibition come to an end.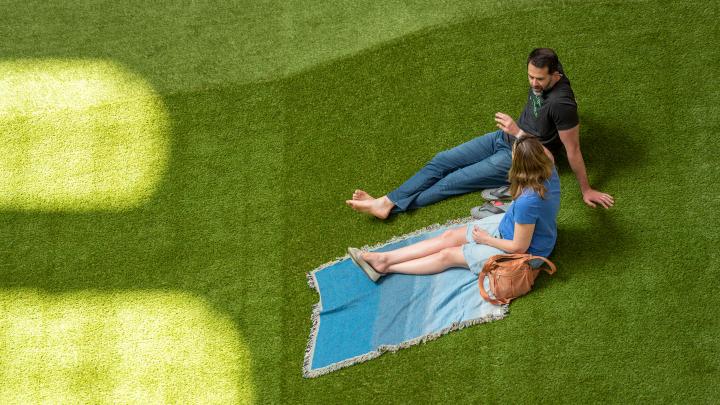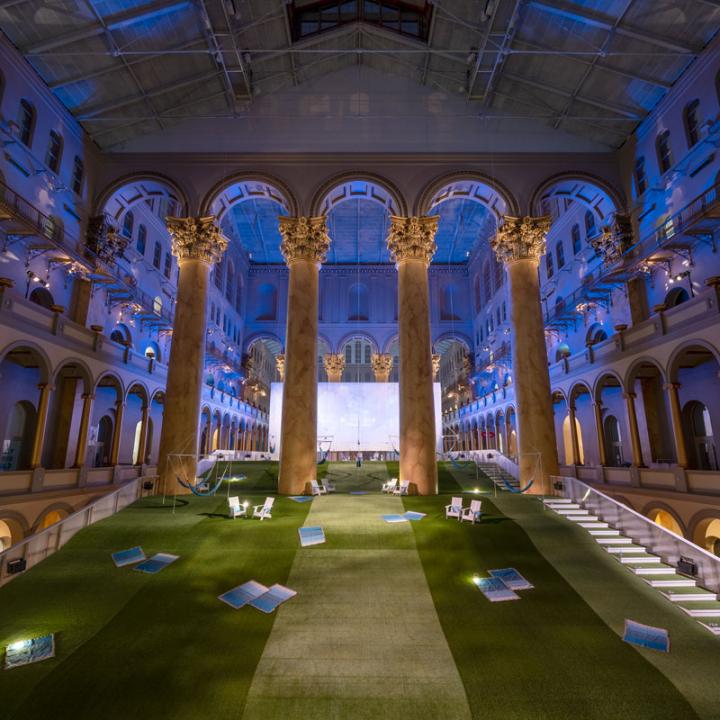 • The environmental soundscape is composed of at least 20 unique audio tracks including bird chirping, a lawn mower whirring, children playing, dogs barking, bees buzzing, and an ice cream truck jingle.
Our AR app features 100 fireflies to catch and release! (Available in AppStore and Google Play as NBM Lawn.)