blog
This fall, Rockwell Group celebrated the opening of NeueHouse Hollywood, the West Coast flagship of the private work collective. The Los Angeles hub is housed in the landmark 1938 CBS Radio Building and Studio, designed by Swiss-born architect William Lescaze. It's from here that the baritone voice of Orson Welles suffused the nation's airwaves and Lucille Ball wisecracked her way into living rooms. The International Style building has an unmistakable vibrancy and a fascinating place in Los Angeles history. Read on below for the story of its life before NeueHouse!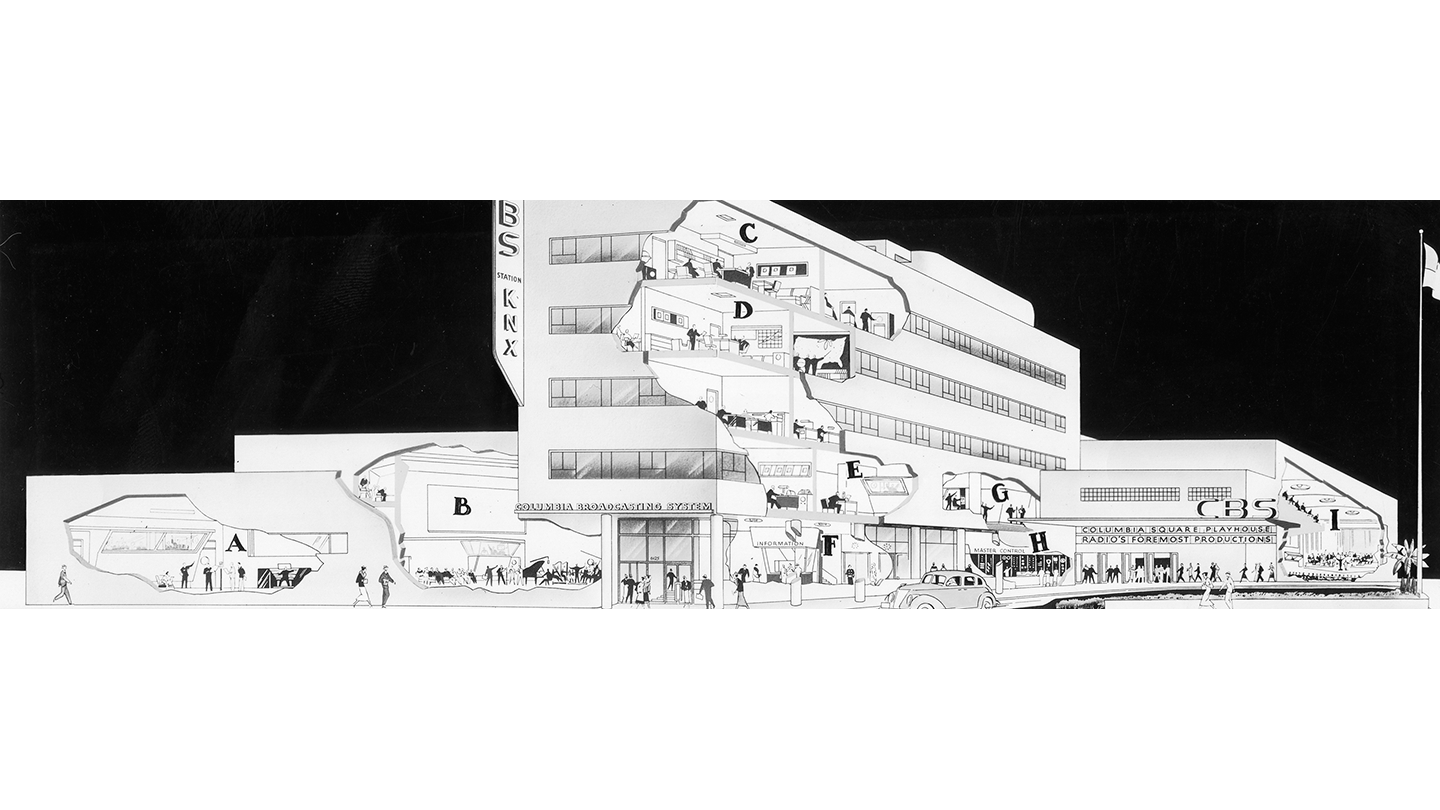 In the early 1930s, NBC called its New York City studios at Rockefeller Center "Radio City."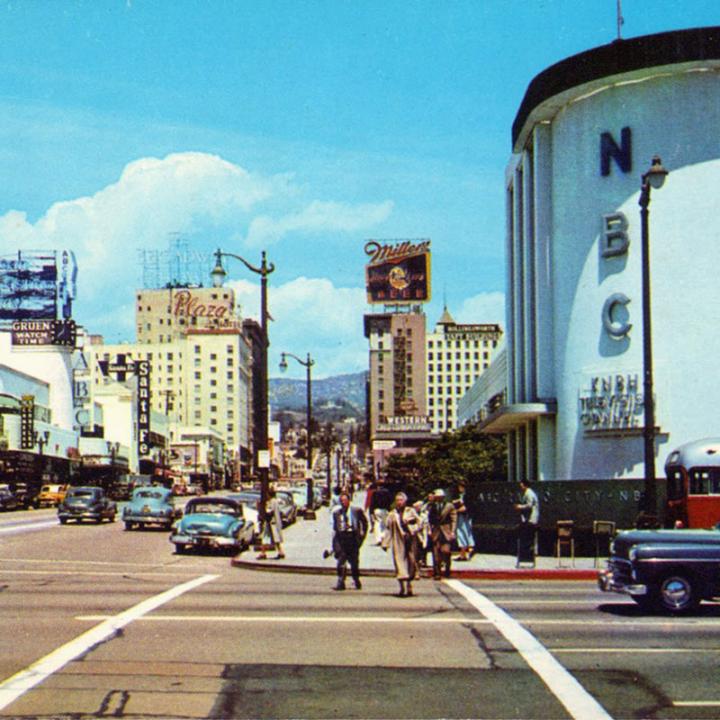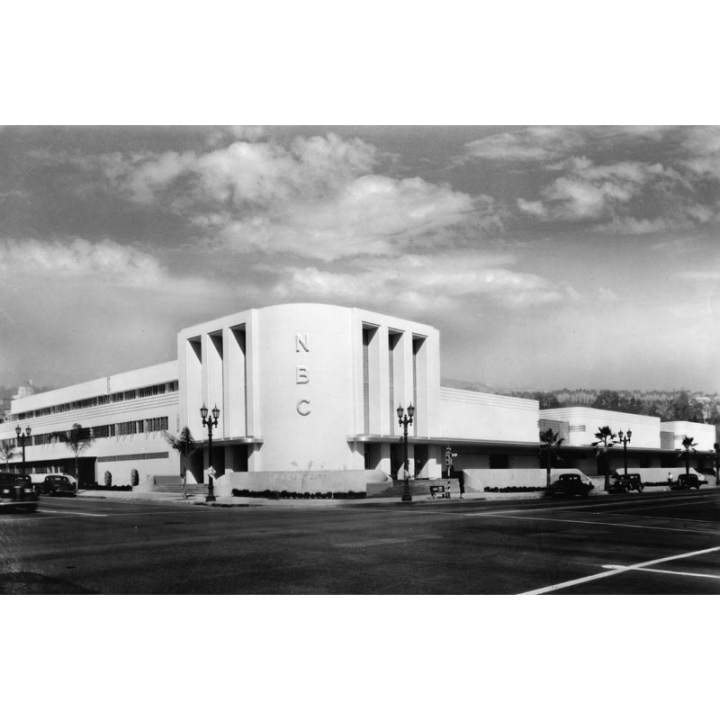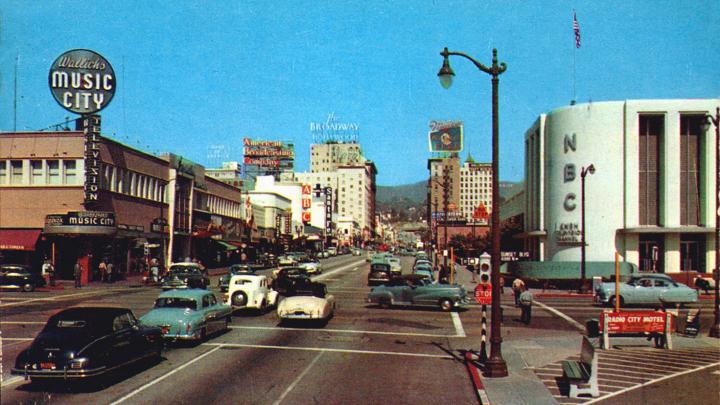 So, when NBC opened new Hollywood studios in 1938, at Sunset and Vine, it did the same, inspiring a new West Coast broadcasting center.
Soon after, the Columbia Broadcasting System opened its $2 million, William Lescaze-designed studios at Columbia Square. American Broadcasting Systems came next, opening on Vine Street. "Radio City" stuck, and restaurants and entertainment sprang up around it, from the Hollywood Palladium to Capitol Records and the Conga Room. Both NBC and CBS could accommodate audiences of 300 people and large orchestras and both had state-of-the-art control rooms.
CBS Columbia Square is a classic, early example of the International Style in the U.S. The style emerged in 1920s Europe with the work of Le Corbusier, Walter Gropius, and Ludwig Mies van der Rohe.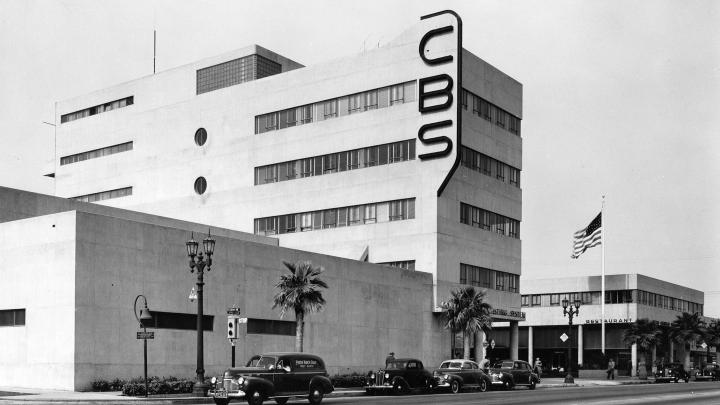 In 1932, New York's Museum of Modern Art hosted an exhibition curated by Philip Johnson and Henry Russell-Hitchcock called International Style: Architecture Since 1922. Johnson and Hitchcock defined the style as having "an emphasis upon volume – space enclosed by thin planes or surfaces as opposed to the suggestion of mass and solidity; regularity as opposed to symmetry or other kinds of obvious balance; and lastly, dependence upon the intrinsic elegance of materials, technical perfection, and fine proportions."
Lescaze's complex for CBS had all of these elements, with its smooth, flat surfaces, ribbons of windows, and recessed ground floors with upper floors raised on pilotis.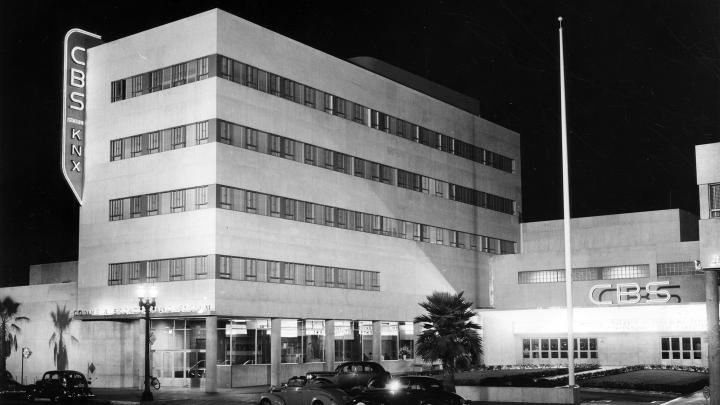 For the CBS Columbia Square Complex, Lescaze, working with associate architect Earl T. Heitschmidt, designed three International Style buildings for the site: the Radio Building, Studio A, and a third commercial wing that housed the Radio Center Restaurant and a bank (later referred to as the Commercial/Television Building). The three buildings were discrete volumes connected by interior and exterior circulation and were situated around a central courtyard facing Sunset Boulevard. On the exterior of the five-story Radio Building, Lescaze extended the edge of the south façade's office slab at the fourth and fifth floors to create an integral billboard for the CBS sign.
The Radio Building contained studios, audition rooms, a theater, and parking. It even contained an empty room called the "reverberation chamber" that was used when radio plays needed echoes.
With his designs for CBS, Lescaze celebrated the functionality of the broadcast facilities, rather than trying to disguise them as theaters or parlors.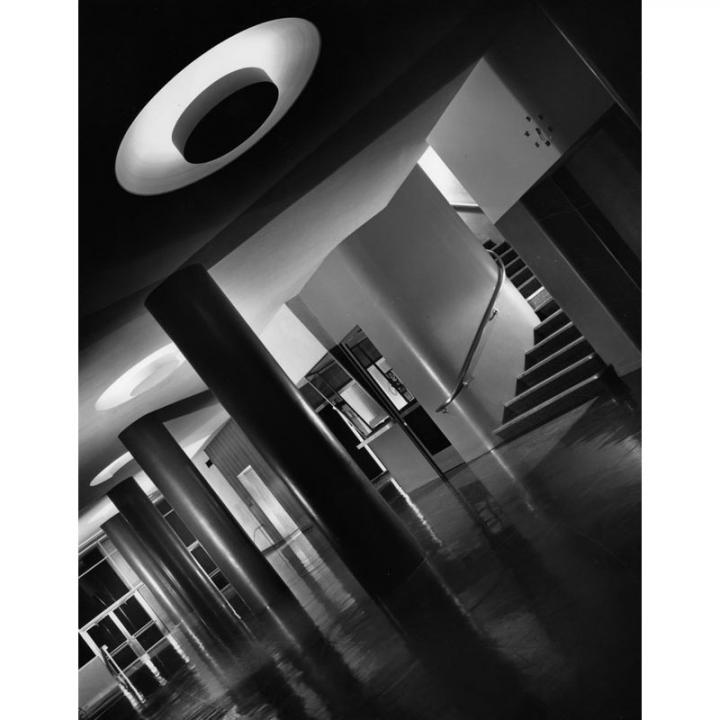 The broadcasting facility was a new 20th-century building type.
---
From 1934 to 1949, CBS President William S. Paley provided Lescaze with some of the most important commissions of his career, allowing him to design everything from graphics and studio furnishings (such as microphone cases) to a mobile broadcasting vehicle.
Through these commissions, Lescaze demonstrated how design was integral to corporate planning. Paley wanted to create a very deliberate, consistent, and distinct brand identity for CBS. He had been to Europe and liked Modern architecture and progressive European design, finding it to be functional, efficient, and aesthetically pleasing and seeing it as the right style for a progressive corporation such as CBS. In Lescaze, Paley saw an architect who could—and did—deliver his vision.
Sources:
Los Angeles Public Library Photo Collection; Appendix C: Historic Resources Technical Report, CBS Columbia Square. Prepared by Historic Resources Group, April 20, 2009; Doordan, Dennis P. "William Lescaze and CBS: A Case Study in Corportate Modernism." William Lescaze and the Rise of Modern Design in America. Spec. issue of The Courier 19.1 (1984): 43-55