blog
Twenty-two years after designing the first Nobu in Manhattan's Tribeca neighborhood, Rockwell Group reinvented a new downtown location for the restaurant. Occupying the ground floor and cellar of the historic former AT&T building, Nobu Downtown at 195 Broadway continues an exploration of Japanese craft. We were particularly inspired by the art of Japanese calligraphy and asked several artists and craftspeople to collaborate on various defining elements for the restaurant.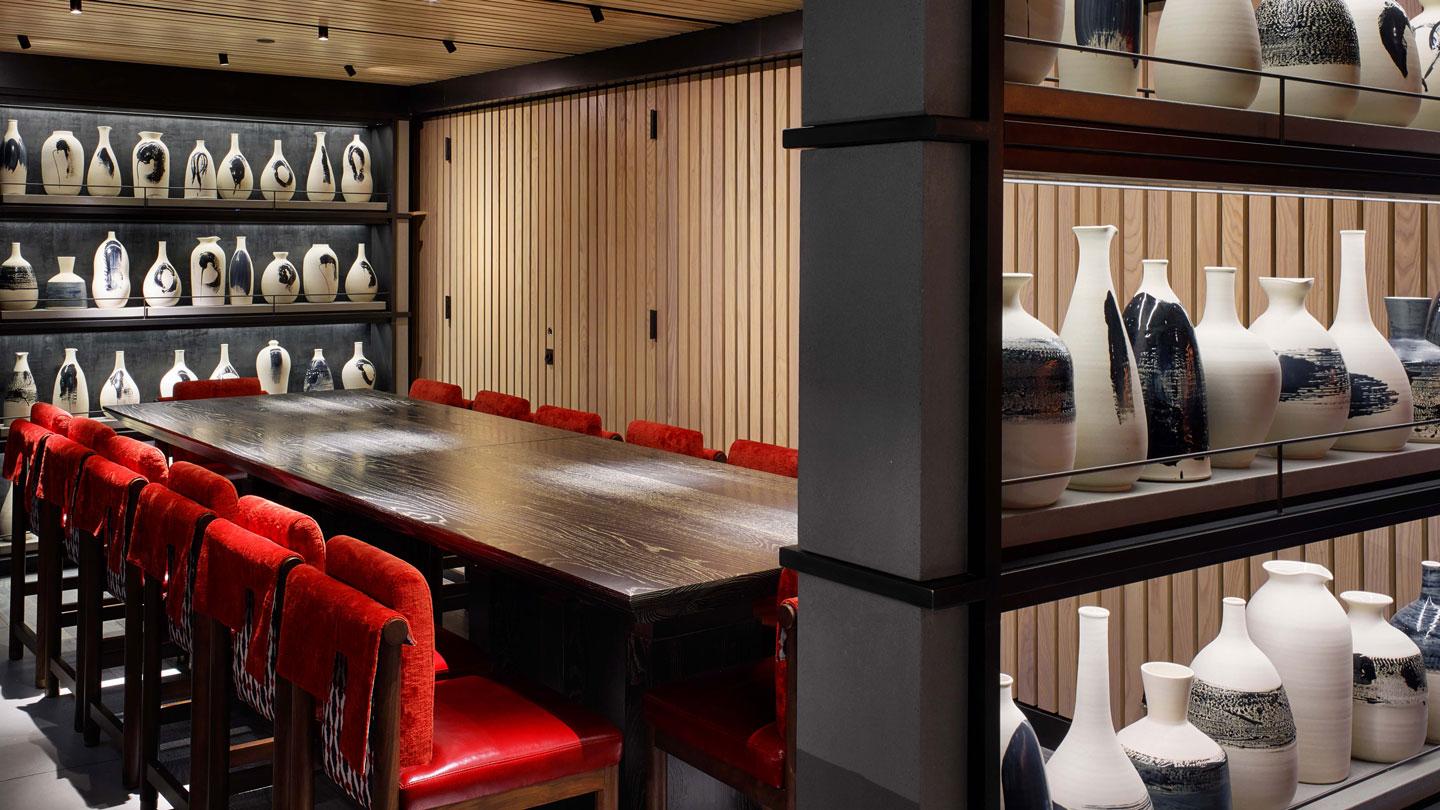 Pascale Girardin
---
One of those collaborators is Pascale Girardin, a Montreal-based ceramic artist whose work has been commissioned by hotels, restaurants, and stores around the world.
For Nobu Downtown, Pascale created bespoke sake vessels, a hand-cast, glazed blue tile feature wall in the 35-seat private dining room, and a ceramic mural in the shape of a stylized brushstroke. We chatted with Pascale about her work for Nobu and her intuitive style.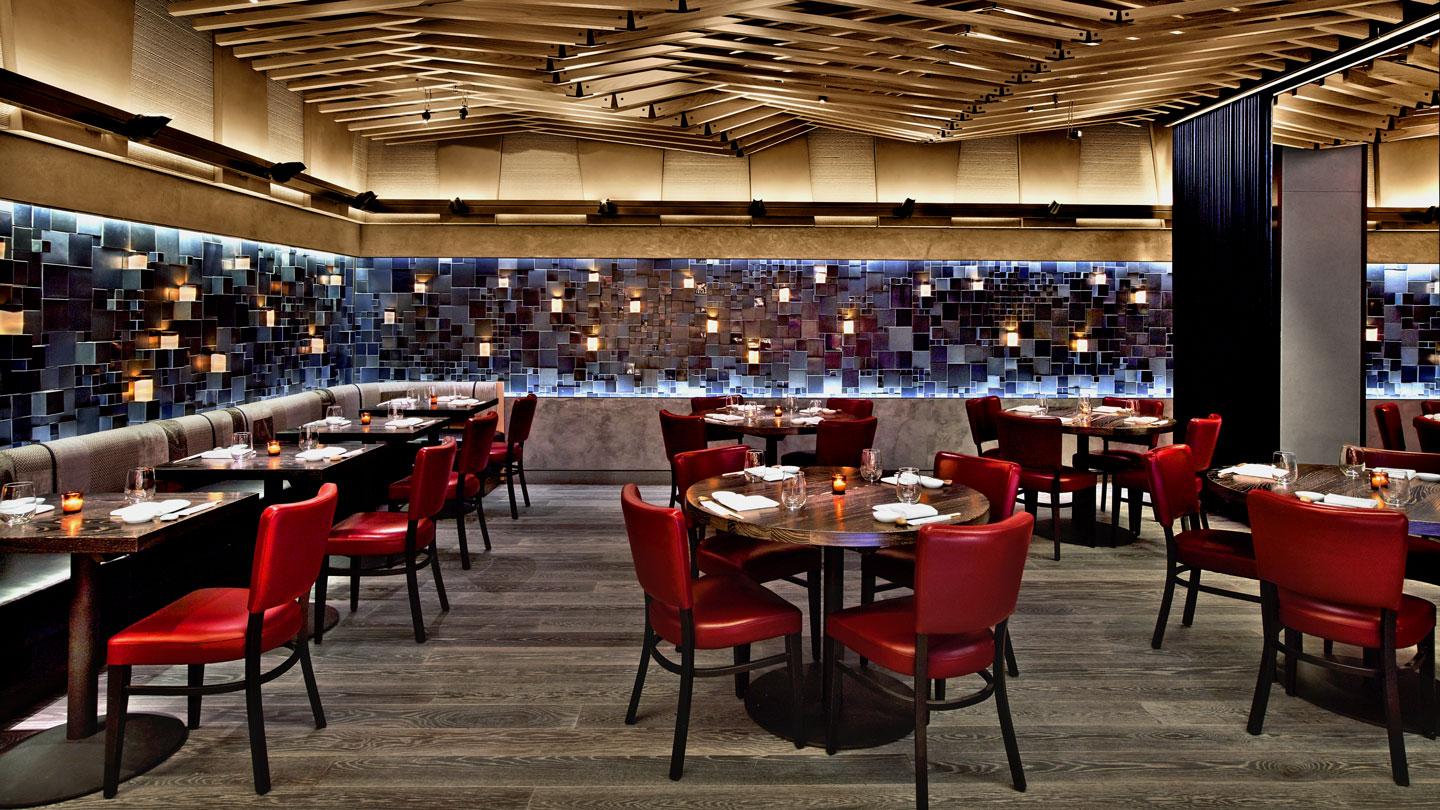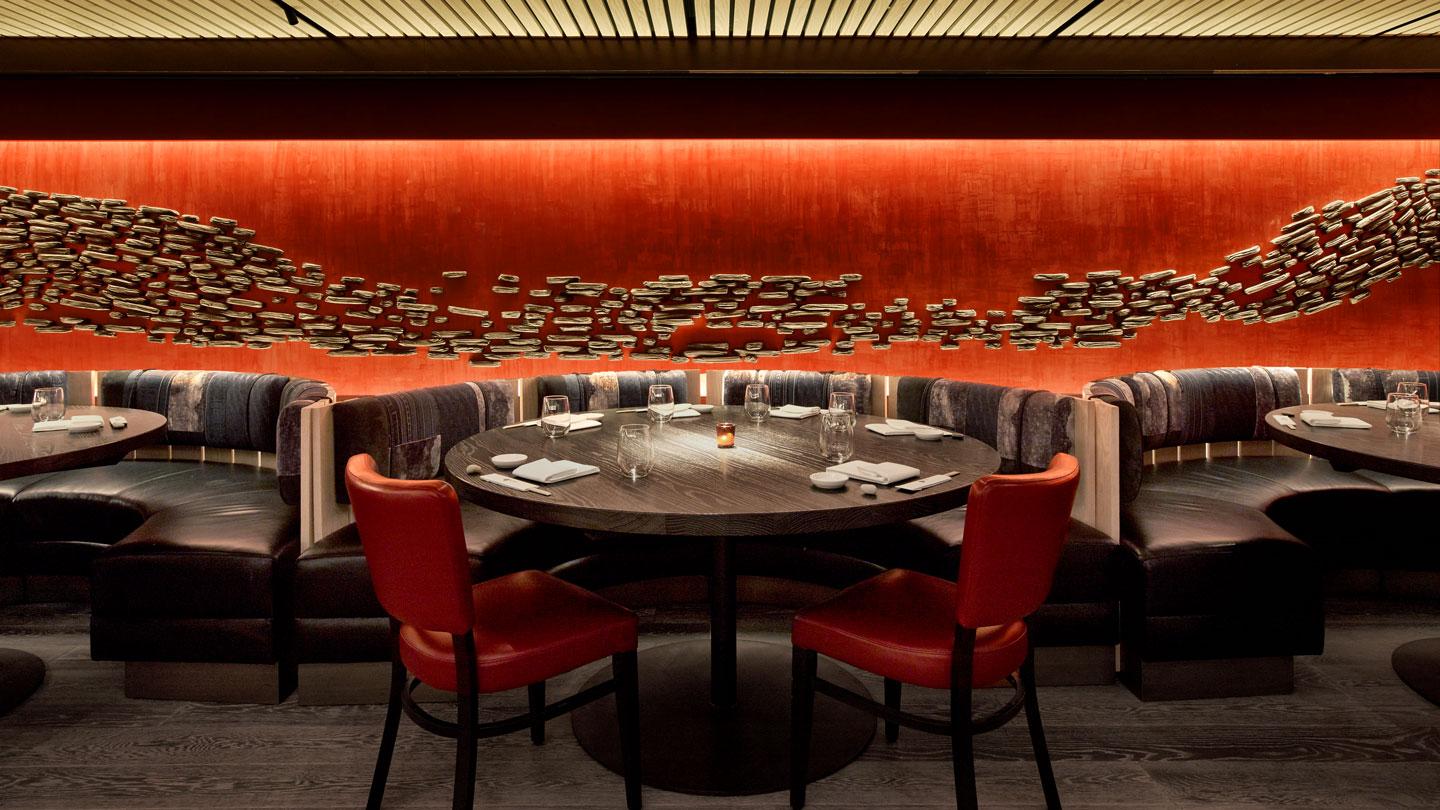 What was your brief from Rockwell Group for Nobu's new Manhattan location?
It was a two-way street: the inspiration of the brushstroke and calligraphy was a strong image for me right from the get-go because I had been working on vases with a single brushstroke, and I had sent some images along to Rockwell Group. Rockwell asked if I could perhaps do some sake bottles. I love Japanese ceramics and when you're a ceramicist in North America, Japan is the dreamland. I had been to Japan on one occasion to visit ceramic museums—there's a particular area called Seto where a lot of the sake bottle makers came from. I had that in the back of my mind. I started studying the shapes of the bottles. It's always nice when a commission allows me to do research and go back into history. The brushstroke mural was an extension of this theme.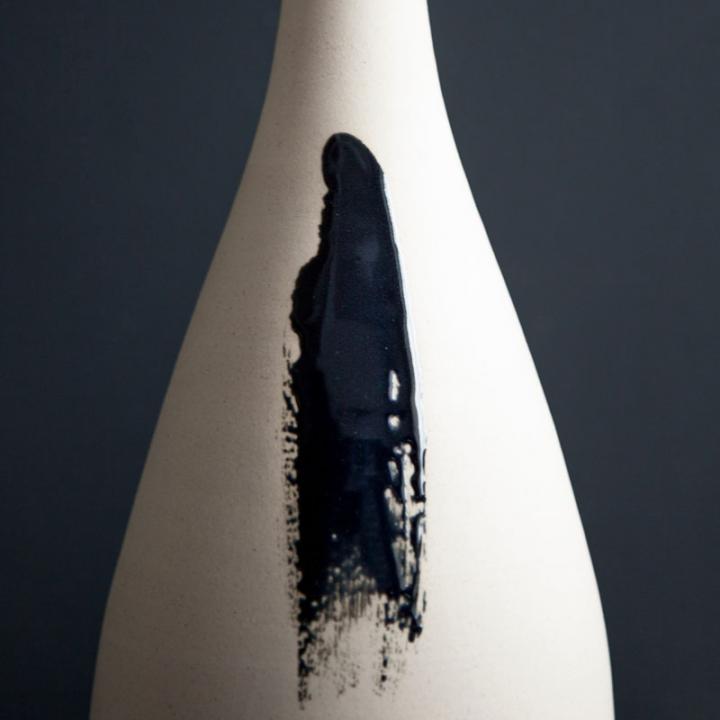 I love Japanese ceramics and when you're a ceramicist in North America, Japan is the dreamland.
What about the tile wall?
I had been working with all sorts of blues since I came back from China and Japan in 2012. Blue is a very popular color in Japan, very loved, and used in daily tableware, clothing, and shibori. All of this had been on my mind. Rockwell Group wanted to do something special for the private dining room that was deep in color. I started darkening and deepening blue tiles for this particular project.
Pascale experimented with blue glazes for the tile wall.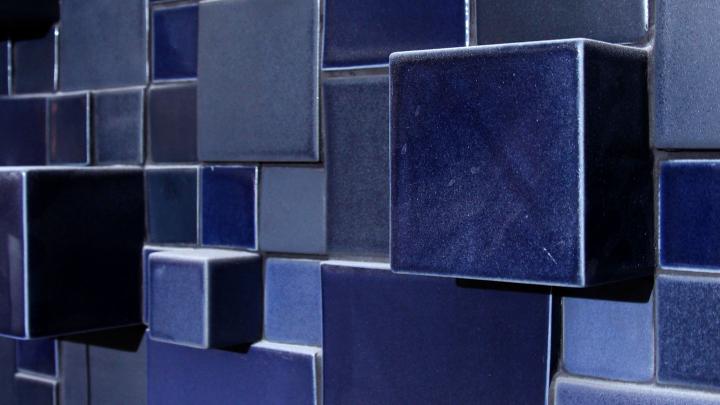 A lot of your work is architectural in its scale, massing, or the way it articulates space. How did you begin to move into that area?
I'm very hungry for new things and new experiences and I'm always challenging myself. So, after doing tableware for 3-4 years, I wanted to try murals, but I thought I needed to do something more daring than tiles. I started doing these textural mural elements that were 6'x2'. Then I got a commission for an area behind the bar of a sushi restaurant here in Montreal. As the projects grew, my studio grew. My first very big mural was in Vegas for a Chinese restaurant called Fin. It was for a 20'x20' concave wall and I covered it with handmade, thin green tiles that were nailed into a wall and looked like floating leaves. I like to do big things and take up some space. I like to see how far I can bring ceramics. When I can't bring ceramics any further, I use aluminum or polycarbonate. I always find a way to push the materials, space, and mechanics.
David Rockwell and his daughter Lola in Pascale's Montreal studio.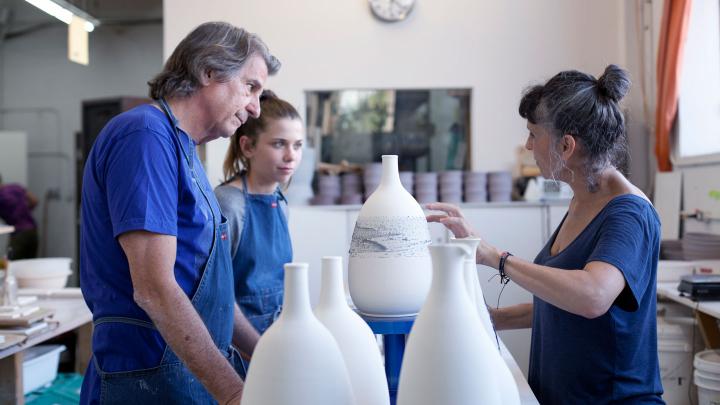 Tell us how the sake bottles for Nobu were made.
The sake bottles are all wheel thrown. I work with a potter named Christian Roy. He is a master thrower. I really needed to work with someone who has that skill. I throw, but small pieces. I'm not a one-man band; I'm the conductor of the orchestra! It's fun for him, too, because he has his own style, but when I work with him, I'm guiding him through the subtleties of the shape—the shoulder, the neck, the lip—all are being considered.
Ceramic tiles were placed in an exacting sequence to form a casual, brushstroke-like installation.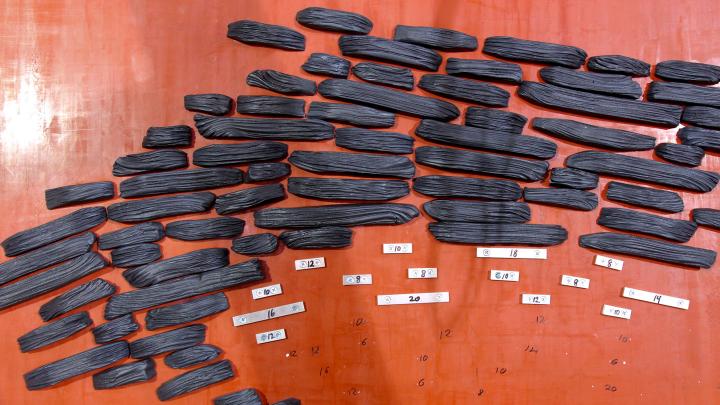 What do you think about in designing for a restaurant?
When you are in a restaurant, all of your senses are coming together. It's really critical that the art has to have a certain harmony and balance. It shouldn't over-stimulate. It has to sort of all conjure that feeling of festivity and coming together around a meal. I am very mindful of creating a pleasant experience.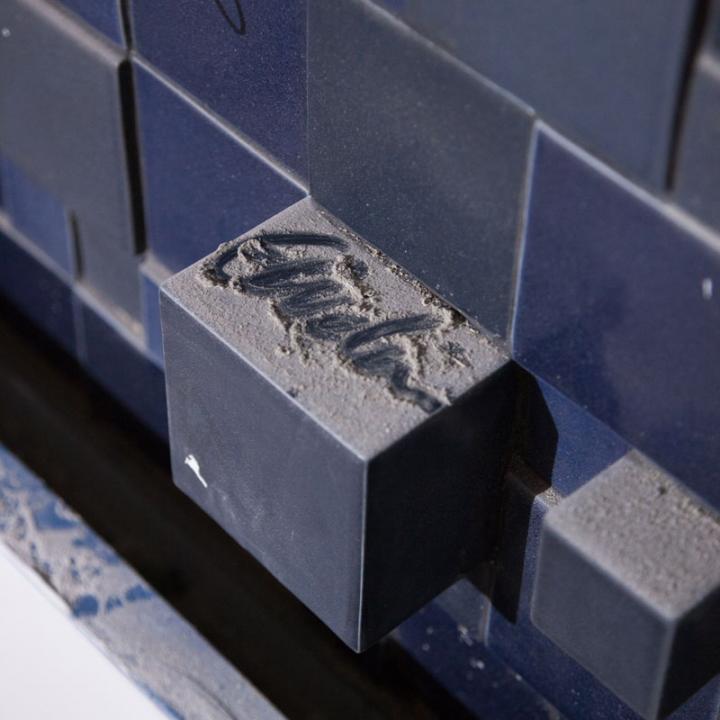 I'm trying every single day to bring out the essence of a piece, even 4"x4" blue square tile.
Would you say there is a through-line in all of your work, which is diverse?
I do have guiding principles. I can say there is a harmony and there's a balance between the physicality and this softness and restraint. I don't want to overwork a piece, or over-clean it, or over-fix it. I'm trying every single day to bring out the essence of a piece, even 4"x4" blue square tile. I'll lovingly finish the edges and carefully glaze it in a way where I know the glaze will pool in one sweeping motion. I also don't like sharp edges, even if it's a square!